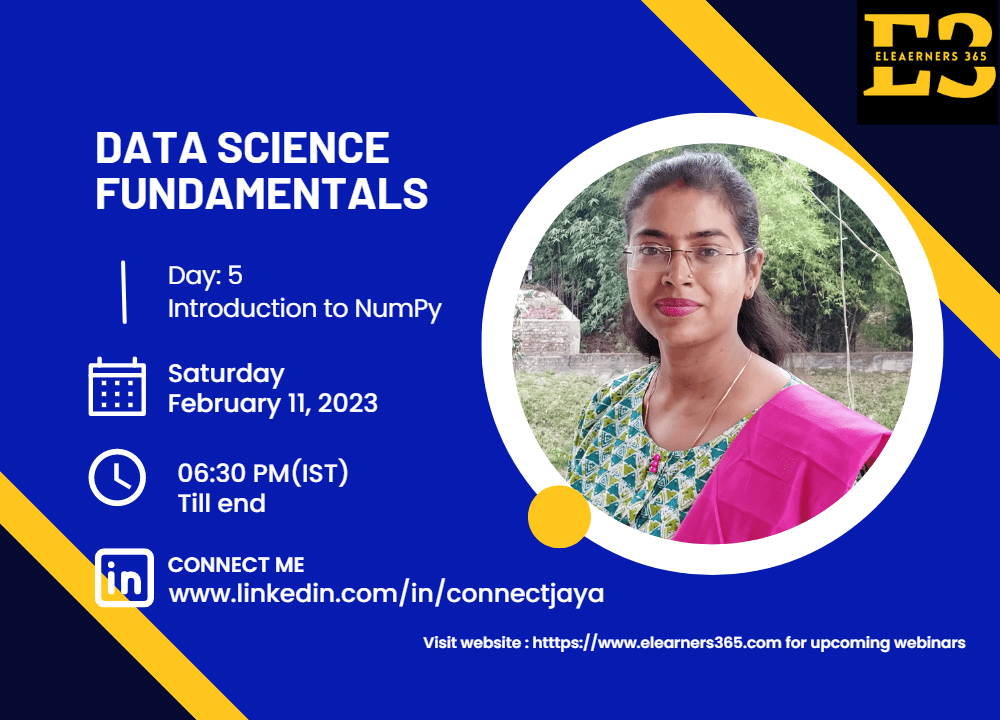 Data Science Fundamentals[Day 5]
280
280 people viewed this event.
Introduction to NumPy
Join us for a live webinar on 11 Feb 2023 and 06:30 PM (IST) to learn the latest trends in Data Science Fundamentals from industry experts and highly qualified mentors. Our speakers will share their insights and experiences on Data Science Fundamentals
You will learn:
1. Useful Libraries in Data Science
2. Introduction to NumPy
a.Numpy Standard DataTypes
b.Array Indexing
c.Array Slicing
d.Array Axes
e.Reshaping
f.Concatenation and Splitting
3. Q & A session
4. Conclusion and Remarks
Don't miss this opportunity to expand your knowledge and network with other professionals in the industry. Register now to reserve your spot.
For more information and updates, follow us on
https://www.linkedin.com/company/67224719/admin
Benefit:
Learn from industry experts
Network with professionals in the industry
Expand your knowledge of Data Science
Don't miss this opportunity to learn from the best and stay ahead of the game. Register today!